Best Computer Desk Guide: 5 Modern Desks You'll Love
By:Lonsgheng
Date:2022/04/19
When it comes to computer office desk, there are many benefits to buying a modern wooden office desk. If you have a home office, you may want to choose one that looks good and is functional. Whether you're looking for something to keep your papers organized or for your work station to look stylish, a wooden desk is a must-have for your office. These desks offer plenty of storage, cord management options, and are extremely durable.
We understood. Looking for the best desk ! You want your office to be big! Whether you're decorating your real estate space to impress clients and create a welcoming atmosphere, replacing your boss' old, worn-out furniture, or simply making your home office really work for you... We feel your pain and we want to help you! (In fact, we have a whole guide full of modern home office ideas and, of course, an amazing collection of handpicked modern desks.) Finding the perfect desk for your space takes time and planning. You need to consider the look and style of the table, the size you need, what you will be using it for, and how often you will be using it. So let's get started! If you want our short list of the best desks, start with these five:
Now, if you're ready to really get into the weed... here's our full list!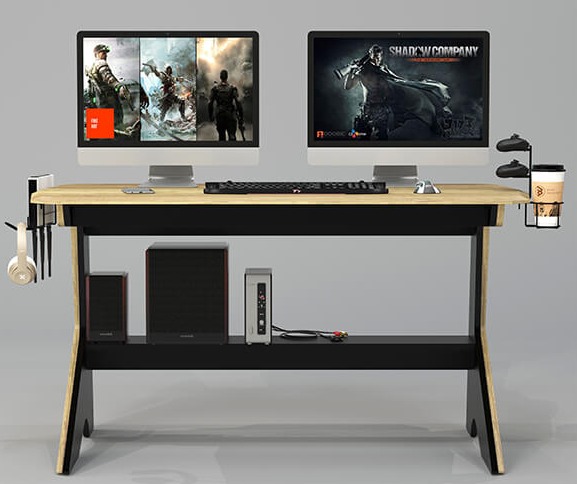 Longsheng gaming desk with a shelf can help you save space in the home. The L-shaped desk has a space-saving monitor shelf. This desk can fit into any corner of the room. Its height adjustability also makes it a good choice for people who need extra space. Longsheng L-shape gaming desk is a great option for people who work from home. In addition to its ergonomic benefits, it can save space. Moreover, it can help you keep your gaming equipment organized. You can place multiple monitors on it, and it should have enough surface space to accommodate your peripherals as well. The best gaming desks with a shelf are sturdy, versatile, and made of high-quality MDF and look great. They will also make a nice addition to your home. And if you're on a budget, this type of desk is a great choice.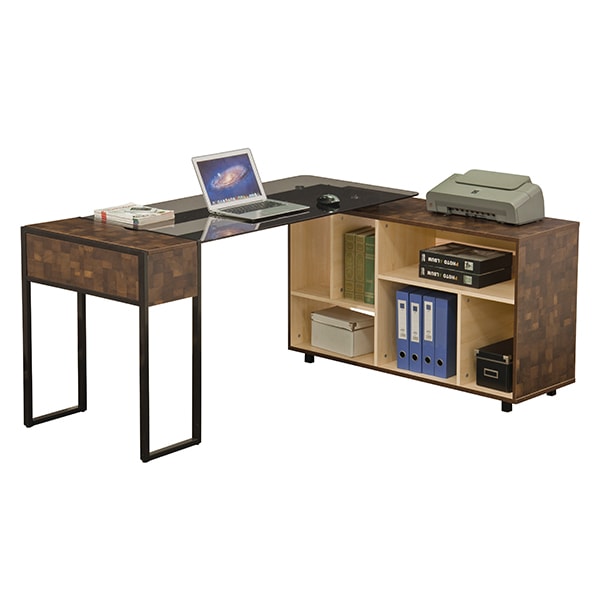 Longsheng's glass computer desk is a computer desk that has primarily a glass top, or glass sides, or an entire glass desk. It allows you to configure your computer, keyboard, mouse, printer, speakers and other computer work accessories to make your setup clean and tidy. Not only that, but there are several other reasons why glass computer desks are a great choice over regular computer desks.
1. They are very durable if properly maintained
Glass computer desks can be very durable. You may find that the glass tops on these tables are thick, sturdy, and very durable. These tempered glass desks are very stable and resistant to shocks and scratches, so they won't break easily. Only it needs proper maintenance. If you take care of the glass from time to time, clean it when it's dirty and dusty, don't put too much on the table, you don't have to worry about its durability.
2. Glass computer desks give your setup a modern look
However, there are a wide variety of computer desks available with different construction materials, but glass computer desks are the ones that need aesthetics. Wood or metal desks are intricately designed to create a classic workspace, while glass desks bring a modern touch to your work environment. And because the glass desk is transparent, you can give your setup a unique minimalist look and the professional that commands the most attention.
3. The glass computer desk provides enough working space
Since glass computer desks are also available in almost all sizes and shapes like regular desks, buying one of them will give you plenty of room to work. You can easily set up dual monitors, set up gaming gear and other work items without cluttering up your desk. So, whether it's a regular computer desk or a game console, a glass desk guarantees you enough space to install all your computer accessories.
4. Easy to clean with computer and glass desk
Glass desks need to be cleaned to maintain their elegance. I agree that glass desks tend to attract dirt and dust and leave fingerprints. While some types of desks require specific cleaning treatments, cleaning glass desks is easy and inexpensive. A simple wipe with this soft cloth with glass cleaner (liquid) is enough to maintain its soothing appearance for years.
5. The glass computer desk can meet your needs
One of the best things about glass computer desks is their versatility. This means that you can find these desks in a variety of designs, sizes, and colors. Metal or wood structure, clear glass or tempered glass top (black), straight table or L-shaped table, they will meet your expectations for the layout of an office. So, if your work environment requires filing cabinets or shelving for computer work, these desks could be a good choice.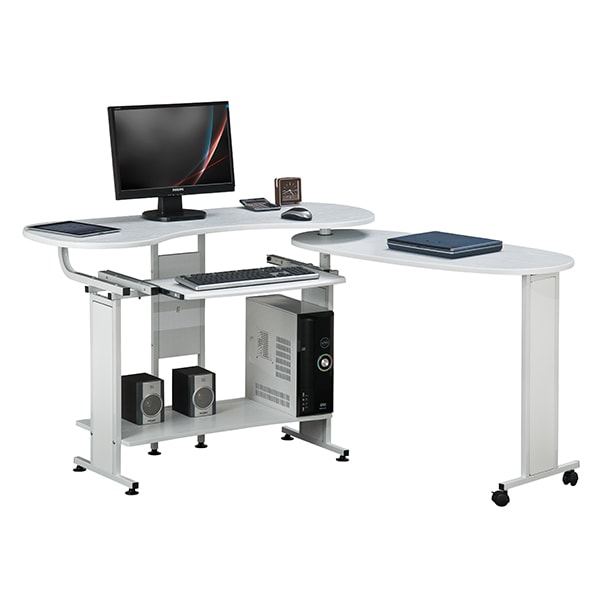 Finding the right L-shaped desk can be tricky, especially if space is limited. The best way is to carefully measure your space, making sure you know the exact length of each side of the table. From there, all you have to do is find the right design! A few quick tips: If you're adding an L-shaped desk to a professional office, you'll need at least 36 inches of clearance between the inside corners of the desk and any adjacent furniture ADA Compliant. If you have a table at home, this number can be as low as 30 inches. Smaller than that, and it gets too tight! One last thing: Desks are typically 30 inches deep, so keep that size in mind when planning your space. Some L-shaped desks have a setback on one side, perhaps only 15 or 18 inches deep, which of course gives you extra flexibility if needed!
CONTACT US


Long Sheng Office Furniture Co., Ltd.
We are always providing our customers with reliable products and considerate services.
If you would like to keep touch with us directly, please go to contact us